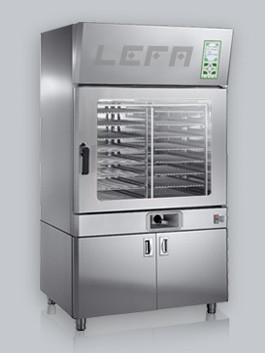 A world first – our combi-steamers with patented smoking process. Regenerating, baking, hot air heating, steaming + SMOKING all in one.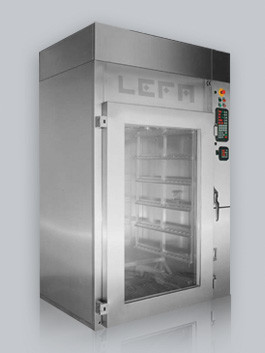 Tailored smoking systems with the LEFA flap valve system – for warm, hot and cold smoking.
LEFA is a member of the Eisele Group to which Edelstahl-Mechanik GmbH and Edelstahl-Laser-Technik GmbH also belong. In total, the group employs 220 qualified employees at two locations.
LEFA products are manufactured by Edelstahl-Laser-Technik GmbH. On a production area of 10.000 m², advanced machinery is used for stainless steel processing and machining. 3D CAD systems are used for the engineering, development and design of our products. All of the sheet metal parts are manufactured with the latest manufacturing processes.
With the "Smoking with liquefied smoke" technology, we have pushed forward an innovative system for smoking that is protected by patents throughout Europe as well as in most important industrial countries. For many years, this system has been used in all systems, from small systems for the trade sector up to large-scale plants in the industry.
LEFA systems have made their name known all over the world by their process reliability and low maintenance requirements. Moreover, our systems are environmentally compatible with a very low cost of ownership.
The tested quality and safety of LEFA products is certified by accredited institutions on a regular basis.

Experience our appliances in person – visit us at selected trade fairs all across Germany.
There are no trade fairs or events at the moment. Please visit us later.
Edelstahl-Laser-Technik GmbH
OT Häslich
Am Steinbruch 1
01920 Haselbachtal
Tel.: + 49 (0) 35 78 / 34 94 22
Fax: + 49 (0) 35 78 / 34 94 94
E-Mail: info@lefa-gmbh.de
Edelstahl-Laser-Technik GmbH
OT Häslich
Am Steinbruch 1
01920 Haselbachtal
Tel.: + 49 (0) 35 78 / 34 94 22
Fax: + 49 (0) 35 78 / 34 94 94
E-Mail: info@lefa-gmbh.de