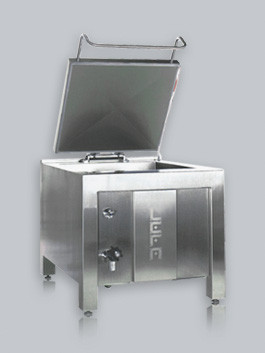 Product
our kettles can be delivered in different volumes: with capacities of 200 to 1,000 litres
made of 100 % Nirosta stainless steel
manufactured with precision, with properly rounded edges and height-adjustable support feet (option: can also be delivered without feet)
the kettle can be emptied via a 1 ½ inch drain valve on the right or left side
water supply via 1 valve or via 2 valves with special configuration (cold/warm)
external water inlet is provided
energy-saving heating options via electric current, gas, oil and steam
Special configuration
core-temperature sensor
control with delta cooking method and serial port for connecting to a PC/laptop
fully automatic filling of the kettle with water via a control unit with microprocessor – for optimal water and energy consumption
dry run protection, that is, operation is not possible without water
overfill protection on the right and left kettle edge
stainless steel connection for dual kettle systems
Benefits
control unit with microprocessor
with digital display for convenient setting of temperature, time and waiting time
the core temperature sensor in the lid guarantees optimal cooking times
energy-conscious: uniform heating thanks to well insulated combustion chamber with Nirosta heating ducts on the bottom of the kettle
standard lid with double-wall insulation and circumferential sealing can be opened up to 90°
the kettle is insulated on all sides

Accessories
Basket
Made of antirust stainless steel with high-quality finish, with or without folding bottom, can be delivered in all sizes for the kettle. A stainless steel load suspension assembly is included in the delivery.

Bottom guard
Made of antirust stainless steel, high-quality finish, prevents contact between the cooked goods and the heated bottom

Sausage rack
Made of aluminium, corresponds to high hygienic requirements and is very convenient to clean.

Examples
Kettle with 400/300 litres, natural gas

Kettle with 300/400 litres, electric current

2x kettle 200 litres

Kettle 200/500 litres

3 x kettle with 600 litres, low pressure steam
1 x kettle with 400 litres, high pressure steam

Click here to see a technical diagram.